Cancer characterization and diagnosis with SERS-encoded particles
Cancer Nanotechnology
Basic,Translational and Clinical Research
2017
8:5
Received: 28 June 2017
Accepted: 28 September 2017
Published: 18 October 2017
Abstract
Early diagnosis, monitoring and treatment selection of cancer represent major challenges in medicine. The definition of the complex clinical and molecular landscape of cancer requires the combination of multiple techniques and the investigation of multiple targets. As a result, diagnosis is normally lengthy, expensive and, in many cases, cannot be performed recursively. In recent years, optical biosensors, especially those based on the unique properties of plasmonic nanostructures, have emerged as one of the most exciting tools in nanomedicine, capable of overcoming key limitations of classical techniques. In this review, we specifically focus our attention on the latest advances in optical biosensors exploiting surface-enhanced Raman scattering encoded particles for the characterization of tumor single cells (molecular biology) and tissues (immunohistochemistry and guided surgery), as well as their application in guided surgery or even in bioimaging of living organisms.
Keywords
CancerDiagnosisPrognosisPlasmonicsSurface-enhanced Raman scatteringSERS-encoded particles
Introduction
Nowadays, one of the fundamental goals in medicine is the characterization of cancer for early diagnosis, monitoring and treatment selection (precision medicine). To this end, techniques such as cytology (Schramm et al. 2011), immunohistochemistry (Gown 2008), genomics [i.e., fluorescent in situ hybridization, FISH (Gerami et al. 2009), polymerase chain reaction, PCR (Khan and Sadroddiny 2016)] and next-generation sequencing (Koboldt et al. 2013) are currently employed to investigate solid samples of tumor obtained by biopsy or surgery. Alternatively, imaging tools such as magnetic resonance imaging (MRI) (Verma et al. 2012), computerized tomography scan (CTS) (Pearce et al. 2012), positron emission tomography (PET) (Silvestri et al. 2013) and the different variants of ultrasound imaging such as endobronchial ultrasound imaging and echoendoscopy (Gu et al. 2009; Kuhl et al. 2005) are commonly applied directly on the patient. As cancer is a multifactorial disease; a combination of information using different technologies, various imaging agents and diverse biomarkers is required to avoid ambiguity. Thus, diagnosis is normally lengthy, expensive and, in many cases, cannot be performed recursively, as it would require monitoring the actual state of the disease and the efficiency of the treatment. In the last decade, many approaches have been developed to complement or even substitute the current methodologies in cancer diagnosis and monitoring. In fact, there is a strong interest in the development of highly sensitive nanotechnological methodologies that would shift medical diagnosis (Howes et al. 2014) to the next level of the state of the art in biomedical diagnostics (Pelaz et al. 2017), pathogen detection (Pazos-Perez et al. 2016) or gene identification (Morla-Folch 2016; Morla-Folch et al. 2017). Among them, optical systems are ideally suited for fast and accurate classification of tumor cells and tissues, early detection of intraepithelial or intraductal diseases, including most cancers, and to assess tumor margins and response to therapy. Optical methods offer several significant advantages over the routine clinical imaging methods, including noninvasiveness through the use of safe nonionizing radiation, the transparency of the soft tissues to the radiation in the biological window (Qian et al. 2008; Smith et al. 2009), a facility for continuous bedside monitoring, and the high spatial resolution (< 0.5 μm lateral resolution in the visible range) (Álvarez-Puebla 2012).
Optical nanosensors based on surface-enhanced Raman scattering (SERS) are currently emerging as one of the most powerful tools in biomedicine. SERS combines the extremely rich structural specificity and experimental flexibility of Raman spectroscopy with the tremendous sensitivity provided by the plasmonic nanostructure-mediated amplification of the optical signal (Le and Etchegoin 2009; Schlücker 2014). SERS spectroscopy has now reached a level of sophistication that makes it competitive with classical methods (e.g., confocal fluorescence microscopy) as it provides direct biochemical information (vibrational fingerprint). The structural fingerprinting is very effective owing to its narrow and highly resolved bands (0.1 nm compared with a bandwidth of 20–80 nm for fluorescence). This resolution, in addition, can be exploited for the generation of a potentially infinite number of SERS-encoded particles (SEPs) that can be used as contrast agents for real multiplex analysis. During the last 10 years, SERS has been extensively used for the study and characterization of single tumor cells, tumor tissues or even in vivo imaging of tumors (Jenkins et al. 2016). Although some strategies based on direct SERS (using "bare" plasmonic nanoparticles with no surface functionalization) (Allain and Vo-Dinh 2002; Baena and Lendl 2004; González-Solís et al. 2013; Sha et al. 2007) or even normal Raman scattering (Kong et al. 2015) have been proposed, nowadays the most promising alternatives rely on the use of SERS-encoded particles to screen, detect and characterize tumor cells and tissues.
Here, we review the latest advances exploiting SERS-encoded particles for the characterization of tumor single cells (molecular biology) and tissues (immunohistochemistry and guided surgery), as well as their application in bioimaging of living organisms (diagnosis), as illustratively summarized in Fig.
1
).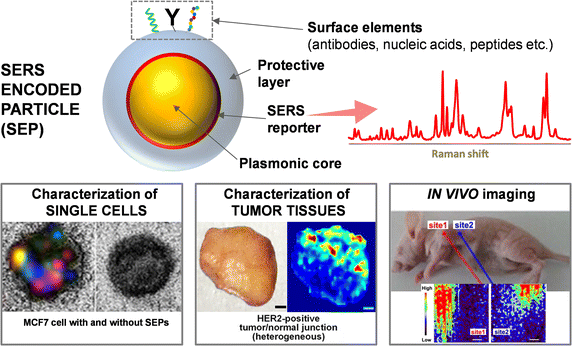 Surface-enhanced Raman scattering encoded particles
The ability to quantify multiple biological receptors in parallel using a single sample allows researchers and clinicians to obtain a massive volume of information with minimal assay time, sample quantity and cost. Classically, such multiplexed analysis has been carried out by using fluorescent labels (e.g., by attaching fluorophores to antibodies in the case of immunostaining). Unfortunately, the broad (20–80 nm) and unstructured signal provided by fluorescence limits to no more than four the number of codes that can be used simultaneously and unambiguously in the same sample. In contrast, the high spectral resolution of SERS allows acquiring well-defined vibrational spectra with bandwidths smaller than 0.1 nm. Since each vibrational SERS spectra represents the chemical fingerprint of a specific molecule, the combination of efficient plasmonic nanoparticles with molecular systems of large Raman cross sections (SERS probes) can generate a potentially infinite library of encoded nanoparticles. Thus, SERS-encoded particles (SEPs) can be schematized as hybrid structures comprising a plasmonic nanoparticle core, usually of silver or gold, coated with a SERS code and, preferably, with an additional protective layer of polymer or inorganic oxide (mainly silica). It is worth noting that the terms SERS "code", "probe", "label", "reporter", and "active molecule" are generally used as synonyms in the scientific literature. Besides the multiplexing capabilities, SEPs may also offer key advantages such as (i) quantitative information, as the spectral intensity of the corresponding SERS code can be devised to scale linearly with the concentration of particles; (ii) the need for only a single laser excitation wavelength to excite the Raman spectra of all SEPs; and (iii) a high photostability and optimal contrast when near-infrared (NIR) excitations are employed to minimize the disturbing autofluorescence of cells and tissues, while protecting them from the damage caused by visible lasers (Wang and Schlucker 2013).
Once prepared, SEPs can be conjugated with a variety of molecular species to afford selectivity. For example, SEPs have been coupled with antibodies, nucleic acids sequences or folates and used for selective targeting and imaging of different substrates such as cells and tissues (Fabris 2016). It is worth noting that, in addition to such active targeting, SEPs can also be delivered to tumors by a passive targeting mechanism (Maeda et al. 2013; Weissleder et al. 2014). This approach exploits the preferred accumulation of nanoparticles, within a certain size range and surface charge, on cancer tissue as compared to normal tissues, a unique biological mechanism ascribed to an enhanced permeability and retention (EPR) effect such as micropinocytosis.
The major challenges associated with the SEP production are related to: (i) the colloidal stability; (ii) functionalization and immobilization of (bio)molecules at the particle surface; and (iii) leaching of the SERS probe. Several alternatives have been reported to overcome these problems. Figure
2
a illustrates a typical procedure to fabricate the SEPs either with or without encapsulation. The simplest way to produce SEPs is by using citrate-stabilized spherical Au or Ag colloids functionalized with a mixed layer of an SERS active molecule and a stabilizing agent such as thiolated polyethylene glycol (PEG), mercaptoundecanoic acid (MUA) or bovine serum albumin (BSA) (Fig.
2
b). The outer protective layer improves nanoparticle stability and prevents the desorption of the SERS codes from the particle surface. Further, the external stabilizing coating provides functional groups on their surface for further bioconjugation (e.g., antibodies or aptamers) for selective targeting (Catala et al.
2016
; Conde et al.
2014
; Pallaoro et al.
2011
).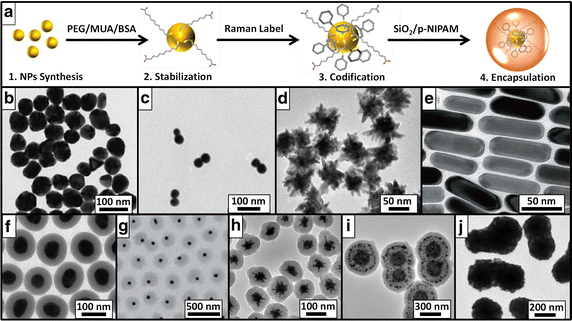 However, even though PEG or BSA improves SEP stability, nanoparticles are still susceptible to aggregation, and great care must be taken when manipulating colloids within biological fluids. Therefore, a more robust coating was also developed and applied on such constructs, such as a silica layer (Bohndiek et al. 2013; Jokerst et al. 2011; Mir-Simon et al. 2015) or polymers like poly(N-isopropyl acrylamide) (NIPAM) (Álvarez-Puebla et al. 2009; Bodelon et al. 2015) (Fig. 2f, g, respectively). These types of SEPs are very stable due to the protective glass or polymer shell on their surface which, furthermore, can be also easily modified to anchor biomolecules such as antibodies or aptamers. Thus, for this reason, nowadays, silica- and polymer-coated SERS-encoded nanoparticles are the most widely used SEPs.
SEPs made of metallic spherical cores are efficient enough for imaging, but larger amounts are required to yield good signals. To increase the SERS efficiency of SEPs, similar constructs were produced by using aggregates instead of individual nanoparticles. These structures are also usually encapsulated in silica, PEG or mixed BSA–glutaraldehyde for stability and protection of the SERS codes (Henry et al. 2016). This approach creates a collection of hot spots within the SEPs, leading to a considerable intensity increase. However, the limited control over aggregate geometric features (size, configuration and gap separation) that can usually be imposed in most of the nanofabrication methods determines significant intensity variability from SEP to SEP. Moreover, the final cluster sizes are relatively large. This factor is very important, as there is an intrinsic size limitation of around 300 nm after which the hydrodynamic stability of the particles is lost (Barbé et al. 2004; Feliu et al. 2017). On the contrary, when homogeneous assemblies such as dimers (Fig. 2c), trimers or even assemblies with higher coordination numbers can be prepared in high yields (Pazos-Perez et al. 2012; Romo-Herrera et al. 2011; Vilar-Vidal et al. 2016), the size limitations pose no longer a problem while extraordinary field enhancements for SERS are indeed generated. However, their current synthetic protocols are tedious and require multiple purification steps.
Different single particle morphologies such as stars or rods have been proposed to achieve higher SERS intensities than those produced by spherical particles without using complicated assembly processes or producing inhomogeneous aggregates. Nanostars and nanorods accumulate the electromagnetic field at their tips, giving rise to very strong single particle SERS intensities (Alvarez-Puebla et al. 2010). Similar approaches as for spherical colloids were applied for the preparation of SEPs using Au nanostars functionalized with thiolated PEG (Morla-Folch et al. 2014; Yuan et al. 2012), or coated with silica shells (Andreou et al. 2016; Henry et al. 2016; Huang et al. 2016; Mir-Simon et al. 2015; Oseledchyk et al. 2017). Figure 2d, h shows Au nanostars coated with Ag and silica, respectively. The obtained intensities of the SEPs produced with Au nanostars are consistently higher than those of spherical particles of the same size (Mir-Simon et al. 2015). However, although many nanostars look homogeneous, the actual geometrical parameters of their tips are not (Rodríguez-Lorenzo et al. 2009), yielding significant intensity variability from particle to particle. Besides, nanostars are usually produced with polyvinylpyrrolidone (PVP) in dimethylformamide (DMF), thus demanding an extensive cleaning of the particles before the encoding process (PVP is retained at the gold surface after the synthesis, hampering the diffusion and adsorption of the SERS probes at the particle). Contrary to nanostars, geometrical features (length, width and even tip) of Au nanorods can be nowadays perfectly controlled (Chen et al. 2013) allowing for a homogeneous SERS response of each particle while also offering the possibility of fine-tuning their localized surface plasmon resonance (LSPR) within the visible–near infrared (Vis–NIR). This characteristic has been used in conjunction with well-selected dyes, to create SEPs with double resonance with the laser (i.e., LSPR of the particle + HOMO–LUMO band of the dye) giving rise to surface-enhanced resonance Raman scattering (SERRS) with the subsequent increase in the signal intensity up to two to three orders of magnitude (Jokerst et al. 2012a; Qian et al. 2011; Von Maltzahn et al. 2009). As silver exhibits larger plasmonic efficiency than gold, fabrication of Ag nanorods has been pursued to improve the enhancing SERS capabilities. However, the preparation of Ag nanorods is extremely challenging and, for this reason, silver coating of preformed Au nanorods (Au@Ag nanorods) has been largely preferred for this aim, paving the way to the fabrication of SEPs (Fig. 2e) with a considerable increase in the SERS intensity (Chen et al. 2016). Still, synthesis of nanorods requires the use of hexadecyltrimethylammonium bromide (CTAB) as a surfactant that electrostatically binds the metallic surface. As for PVP for nanostars, the CTAB layer hinders the adsorption of SERS probes at the nanoparticles, therefore demanding tedious and delicate post-synthetic procedures to efficiently produce SEPs. Notably, while SERS intensities provided by nanostars or nanorods are much higher than those of isolated rounded particles, they still remain far below those afforded by (controlled or random) aggregates of spherical nanoparticles.
Multimodal imaging technologies have also been developed by implementing SERS with other imaging techniques based on different physical effects such as fluorescence and magnetism. For instance, silica- or titania-coated SEPs (Fig. 2j) have been conjugated with fluorophores or quantum dots on the silica surface (Cui et al. 2011; Qian et al. 2011; Wang et al. 2012, 2014b). In this case, the final goal is combining the fast acquisition of fluorescence signal with the high multiplexing capability of SEPs. Likewise, since magnetic resonance (MR) imaging is also a technique widely used, bimodal SEPs combining SERS and magnetism have been similarly developed. Most of the reported structures are achieved by conjugating magnetic particles onto the outer silica shell of SEPs (Gao et al. 2015; Ju et al. 2015; Kircher et al. 2012). Finally, trimodal SEPs (Fig. 2i) have been also demonstrated by using a multi-layered structure where the inner core is a magnetic nanobead protected with a silica layer, which is further covered with SEPs (Au@Ag nanorods) and, finally, with an outer silica layer. This latter shell allows to fixate the deposited nanorods and provide anchor spots for CdTe quantum dots, which are exploited as the fluorescent agents (Wang et al. 2014b) These multimodal approaches further highlight the capabilities and great potential of SEPs for enabling more accurate imaging.
SEP characterization of single cells
Cancer cells, even those within the same tumor, are characterized by high phenotypic and functional heterogeneity as a result of the genetic or epigenetic change, environmental differences and reversible changes in cell properties (Meacham and Morrison 2013). Such intrinsic variability plays a major role in metastasis, therapy resistance and disease progression and, thus, experimental approaches capable of providing a complete molecular landscape of cancer are key tools in cancer diagnosis, prognosis and treatment (Meacham and Morrison 2013; Siravegna et al. 2017).
Although SERS microspectroscopy has been extensively employed in the study of tumor tissues (this will be discussed extensively in the next section), the phenotypic characterization of single cells is still in its infancy (Altunbek et al.
2016
; Chourpa et al.
2008
; Hu et al.
2016
; Kneipp
2017
; Nolan et al.
2012
; Taylor et al.
2016
). The rationale of using SERS for single cell studies over other imaging techniques, such as those based on fluorescence read-outs, rests on its high multiplexing capabilities, sensitivity and robustness to investigate the distinct properties of cancer cells, in particular by exploiting antibody-conjugated SEPs targeting cell membrane receptors for immunophenotyping studies. Arguably, the most impacting single cell SERS phenotyping was reported by Nima et al. (
2014
), who fabricated four different sets of SEPs (Fig.
3
a) comprising an Au@Ag nanorod as the plasmonic unit, a unique SERS label and an antibody (Ab) selectively targeting a specific breast cancer marker. In detail, the authors employed three anti-epithelial cell adhesion molecules (anti-EpCAM, anti-CD44, anti-cytokeratin18), and an anti-insulin-like growth factor antigen (anti-IGF-I receptor β). Notably, rod nanoparticles were designed to display an absorption maximum in the NIR range (a spectral region where the biological tissue absorbance is minimal). As a result, SEPs also act as excellent photothermal (PT) contrast agents (Jain et al.
2008
; Polo et al.
2013
), enabling the possibility to combine a rapid sample pre-screening using pulsed PT excitation with the high sensitivity of multiplex SERS imaging. Molecular targeting of tumor cells was demonstrated in unprocessed healthy human blood (7 × 10
6
white blood cells, WBCs) spiked with MCF-7 cells (Nima et al.
2014
). Upon 30 min incubation with the cocktail of SEPs, 2-D SERS mapping of a single MCF-7 cancer was acquired (Fig.
3
b). Each of the four colors associated with the Raman vibrational barcode of the four SEPs can be easily distinguished despite the complex biological background, while no significant signals were collected from WBCs in the sample or from cancer cells in the absence of SEPs. Co-localization of multiple SEP signatures provides a highly enhanced level of detection specificity by rejecting false positive readings, which may arise from monoplex or biplex targeting. On the other hand, integration of super-contrast SERS method with PT functionality into bimodal SEPs dramatically reduces the imaging time, allowing the rapid detection of a single cancer cell without any tedious enrichment or separation steps.

Multimodal SEPs for fast and multiplexed imaging of cancer cells in vitro were also previously employed by Wang et al. (2012), who, in this case, integrated fluorescence and SERS signal read-outs. On the other hand, the multiplexing capabilities of SERS imaging with SEPs were further investigated by Bodelon et al. (2015), who discriminated human epithelial carcinoma A431 and nontumoral murine fibroblast 3T3 2.2 cells in mixed populations cultured in vitro. Here, three Ab-functionalized SEPs, comprising gold octahedra as plasmonic units, are simultaneously retained at the cancer cell membrane, while only one is found to display affinity toward membrane receptors on the healthy cells.
Notably, although the field of SERS single cell phenotyping is still limited, it is under rapid development due to the enormous potential in terms of: (i) identification of new therapeutical targets that may allow for the discovery of novel and more selective therapies to safely target and kill tumor cells; and (ii) classification and recognition of different tumor cells, which may lead to their easy detection allowing for pre-symptomatic diagnoses or relapses. In the latter case, direct identification of tumor markers, such as cancer cells, contained in bodily fluids (i.e., liquid biopsies) likely represents the most powerful approach for the noninvasive and real-time monitoring of the disease progression or recurrence and the response to various treatments, which can also lead to key insights into the development of specific resistances (Schumacher and Scheper 2016; Siravegna et al. 2017). In this regard, studies of integration of SEPs with modular microfluidic platforms have demonstrated the potential to efficiently combine in an assay the rapid sample processing and precise control of biofluids with the fast optical detection of cancer cells (Hoonejani et al. 2015; Pedrol et al. 2017; Sackmann et al. 2014; Shields et al. 2015; Zhou and Kim 2016).
SEP characterization of tumor tissues
In vivo imaging with SEPs
In 2008, Nie and coworkers (Qian et al.
2008
) reported the first example of in vivo SERS imaging of a xenograft tumor model in mice. They employed SEPs comprising a spherical gold nanoparticle functionalized with a mixed layer of a resonant SERS label (malachite green) and thiolated PEG derivatives, and further conjugated with an antibody targeting EGFR-positive tumors. Once introduced into blood circulation via intravenous injection, the nanoparticles preferably concentrate at the tumor area during the subsequent 4–6 h where they largely remain for > 24–48 h (Fig.
8
a). This allowed the spectroscopic detection of the tumor by SERS, as revealed by the acquisition of the intense vibrational fingerprint of malachite green (Fig.
8
b). Lower but significant nonspecific particle uptakes by the liver and the spleen were also detected.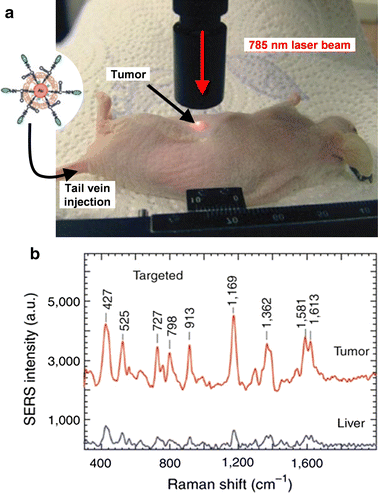 Since such pioneering work by Nie's group, in vivo SERS imaging of solid tumors has been the subject of intense investigations. Numerous advancements in terms of multiplexing capabilities, SEPs delivering to target tissues, reducing the toxicological impact, instrumentation designing and application of multimodal nanomaterials have been reported in the literature and will be discussed as follows.
Conclusions and future perspective
SERS sensing with SERS-encoded particles has matured into a solid and reliable analytical technique for a wide variety of applications in cancer, including the characterization of a tumor cell, the IHC, resection guiding and localization of solid tumor bioimaging and staging.
However, there are still open challenges, mainly related to the reproducibility of the methods for substrate fabrication. This is especially relevant when dealing with the controlled formation of hot spots, the enhancement efficiency of which is extremely sensitive toward subtle differences of the nanostructure geometrical features. Additionally, although portable Raman spectrometers are available, most of the published reports are based on very sophisticated instruments that are not suited for routine analysis in clinical laboratories or hospitals. Thus, as demonstrated by many examples, the field of SERS codification has a great potential, in particular toward biomedical applications, but still remains open to new developments that will certainly continue amazing us in the near future.
Abbreviations
Ab:

antibody
BSA:

bovine serum albumin
CCD:

charge-coupled device
COINs:

composite organic–inorganic nanoparticles
CTAB:

hexadecyltrimethylammonium bromide
CTS:

computerized tomography scan
DCLS:

direct classical least squares
EGFR:

epidermal growth factor receptors
EPR:

enhanced permeability and retention
FDA:

Food and Drug Administration
FISH:

fluorescent in situ hybridization
HC/IHC:

histo/immunohistochemistry
LSPR:

localized surface plasmon resonance
MRI:

magnetic resonance imaging
MUA:

mercaptoundecanoic acid
NIPAM:

poly(N-isopropyl acrylamide)
NIR:

near-infrared
PA:

photoacoustic
PCR:

polymerase chain reaction
PEG:

polyethylene glycol
PET:

positron emission tomography
PTT:

photothermal therapy
PVP:

polyvinylpyrrolidone
SEPs:

SERS-encoded particles
SERS:

surface-enhanced Raman scattering
SORS:

spatially offset Raman scattering
SOSERS:

spatially offset surface-enhanced Raman scattering
WBC:

white blood cell
Declarations
Authors' contributions
RAP designed the article structure. RAP, LG and NPP drafted the paper. NPP contributed to the 'SEP-encode particle' section of the article. RAP and LG contributed to the remaining sections of the article. EGR provided input relating to the clinical applications of SERS-encoded nanoparticles. All authors discussed the data and revised the manuscript. All authors read and approved the final manuscript.
Acknowledgements
Not applicable.
Competing interests
The authors declare that they have no competing interests.
Availability of data and materials
Not applicable.
Consent for publication
Not applicable.
Ethics approval and consent to participate
Not applicable.
Funding
The work was supported by Spanish MINECO (CTQ2014-59808R), the Generalitat de Catalunya (2014-SGR-480) and the HM Hospitales Group. This project has also received funding from the European Union Horizon 2020 research and innovation program under the Marie Skłodowska-Curie grant No 712.949 (TECNIOspring PLUS), as well as from the Agencia para la Competitividad de la Empresa de la Generalidad de Cataluña. LG and NPP acknowledge the RyC program.
Publisher's Note
Springer-Nature remains neutral with regard to jurisdictional claims in published maps and institutional affiliations.
Open AccessThis article is distributed under the terms of the Creative Commons Attribution 4.0 International License (http://creativecommons.org/licenses/by/4.0/), which permits unrestricted use, distribution, and reproduction in any medium, provided you give appropriate credit to the original author(s) and the source, provide a link to the Creative Commons license, and indicate if changes were made.
Authors' Affiliations
(1)
Departamento de Química Física e Inorgánica and EMaS, Universitat Rovira i Virgili, Tarragona, Spain
(2)
Fundacion de Investigacion HM Hospitales, Madrid, Spain
(3)
Centro Integral Oncologico Clara Campal (CIOCC), Madrid, Spain
(4)
Servicio de Oncologia Clinica, Hospital Universitario HM Torrelodones, Torrelodones, Spain
(5)
School of Medicine, San Pablo CEU, Madrid, Spain
(6)
ICREA, Barcelona, Spain